#ModestIsOverParty trends after 5 years of One Direction's disbandment
Photo Courtesy of: MTV.com
After 5 years of One Direction's disbandment, "directioners" made #ModestIsOverParty trend. The trending hashtag is composed of numerous claims as to how Modest "abused" the 16-year-old boys.
Th fans' allegations are based on the boys' separate interviews after One Direction disbanded in 2015.
Back in 2018, vocalist Zayn Malik called former band a "machine" in an interview with Vogue UK.
Malik disclosed that he was not able to enjoy the experience of performing in stadiums because "the machine had gone too fast."
In 2019, Liam Payne told Men's Health Magazine that being in One Direction was "almost like putting the Disney costume on."
He even said that he was drunk "quite a lot of the time" because he did not think of any other way to "get his head around what was going on."
"When you're doing hundreds and hundreds of [concerts] and it's the same 22 songs at the same time every single day, even if you're not happy, you've got to go out there," Liam told the the publication.
In a tweet back in 2019, Niall Horan clapped back on fans calling out Modest after he tagged his management in caption "best crew."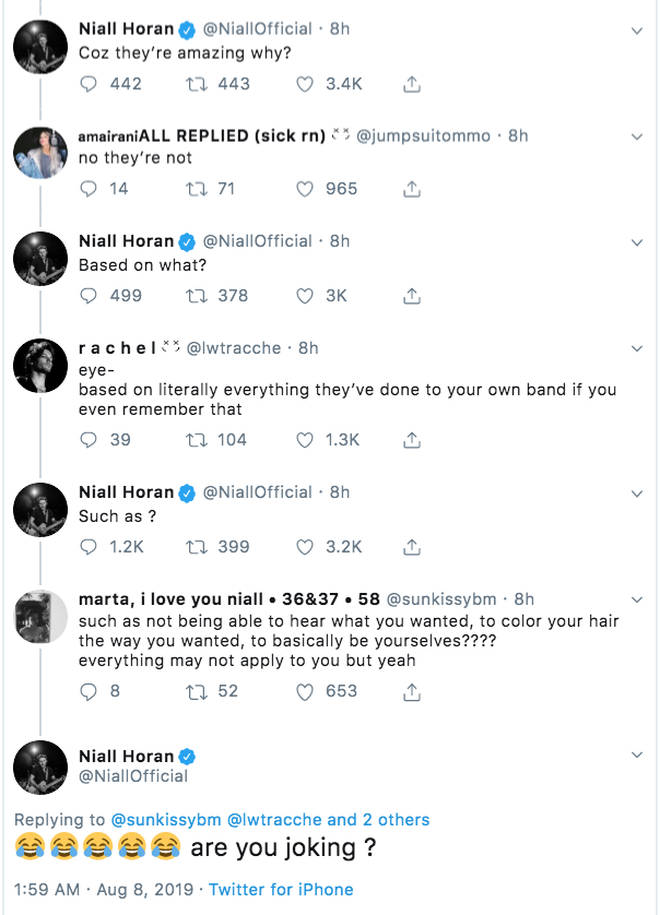 One user tweeted, "Niall sweetie why are you tagging [modest]", to which Horan replied, "Coz they're amazing why?".
Another fan replied and told the singer upfront: "no they're not."
Horan replied with: "based on what?", making fans reply with lots of accusations, pertaining to how Modest controlled One Direction.
Regardless of the fans' allegations, Horan has been under the management of Modest since One Direction. Horan had just started his solo career and released first album, Flicker.
Meanwhile, Liam Payne teased a 10-year anniversary special with the boys long before the quarantine began.
"We've got a 10-year anniversary coming up so we've all been speaking together a lot over the last few weeks which has been really nice," Payne told the The Sun.
As of writing, the boys have not said anything regarding the hashtag, but the tweets of claims still keep on pouring in.